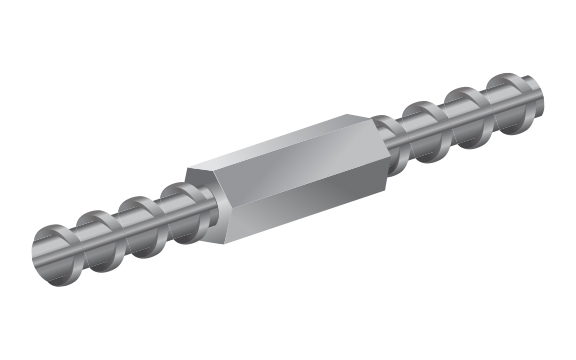 Code changes within the American Concrete Institute's (ACI®) Concrete and Masonry code require longer lap lengths in masonry construction. This code change means more congestion in the masonry cells and more difficulty in construction. To alleviate this problem, builders can either use open-cell blocks, which are quite expensive, or use mechanical rebar couplers to eliminate the lap.
The LENTON® taper-threaded splice – one of the most widely used mechanical splicing systems in the world today – quickly and easily connects two pieces of rebar. This cost-effective connector uses the time-tested, field-proven taper thread for assurance of strength, consistency, and reliability while simplifying installation.
LENTON splices are designed for use on worldwide standard grades of rebar and meet ACI-318, BS 8110, and DIN 1045 full-tension splice requirements and many other international standards. No "special" high strength, enlarged thread section or increased rebar size is necessary, thus allowing the supply of rebar from multiple sources for maximum cost savings.
Features:
Eliminates lap splices in CMU walls
Adds structural integrity
Fast and cost effective system
Accelerates construction schedules
Taper-thread design for easy installation
Excellent for future extension applications
Available in sizes #3 – #18 (10 mm – 57 mm)
Accommodates unexpected design or construction changes
Conforms to ACI® codes
Minimizes congestion in CMU wall
Approved by major building codes and agencies around the world
Exceeds Type 1 and Type 2 splice requirements
Exceeds ACI, UBC®, IBC® and ICC® full-tension splice requirements